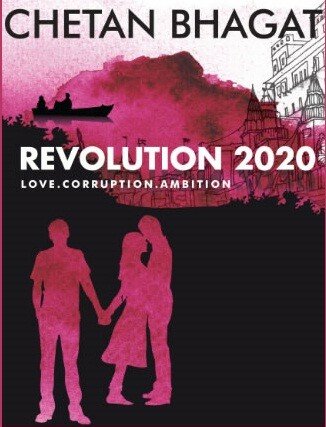 The story starts when Chetan Bhagat visits GangaTech college in Varnasi to deliver a speech, where he meets Gopal (the director of the college) who just wants to have a drink with Chetan Bhagat so he could tell his friends that he had a drink with 'the' Chetan Bhagat. Bhagat finally agrees to the request and as time went by Gopal over drunk and had to be rushed to the hospital
Revolution 2020 is a triangle love story between Gopal, Raghav and Aarthi, three child hood friends from Varnasi. Gopal falls in love with Aarthi, who professes her love for Raghav and vice - versa. Raghav clears his JEE exams to get into the famed Benares Hindu University in Varnasi and Gopal with not so good entrance exam marks tries for another attempt by joining coaching classes in Kota.
Finally unable to make it to any good university and after the death of his father, Gopal finds himself in the company of an MLA and works with him start an Engineering college in his ancestral agricultural land .. which comes along with a lot of corruption.. In the mean time Raghav after his engineering joins as a news reporter in one of the leading news papers in the city from where he was later chucked out for having written about the corrupt practices followed by the MLA of their region. Revolution 2020 happens to be Raghav's News paper which highlights the various corrupt practices happening in the city of Varnasi.
Throughout the story the one thing in Gopal's mind was to prove to Aarthi that he was better than Raghav ..
The book was a good time pass read, however it was not very fast paced and the story line did not get me addicted to finish the book in one go.. I liked reading Chetan's Two States much better,
I loved the way Varnasi was described between the story line, about the boat rides in Ganga .. small pathways around the temple area with no place to move around when you have a cow coming in the same street as you .. it reminded me of my trip to Varnasi almost a decade ago, the same incident happened when we hurriedly got on to the verandahs of the houses on the street when a cow started coming on the same road we were waling in .. I should say the cows in Varnasi are really healthy. It is one of the beautiful historic pilgrim place in India .. I miss not having taken pictures during my Varnasi trip.