**spoiler alert**
I happened to catch up with this Oscar nominated movie, Slum dog Millionaire this morning. Hard reality portrayed in a very beautiful way with a concise story line. Despite being really positive and optimistic about life one does have to realise the harsh facts of reality.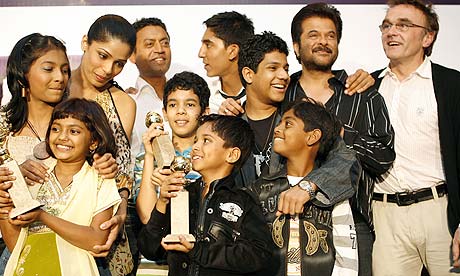 Is this movie about portraying the harsh realities in India ? Or the own that shows one with persevearance can win against all odds? Well, all that the director Danny Boyle wanted to say was this movie is an answer to the West's question of what makes India tick?

The story line is neat and simple where Jamal a boy from the Darvi slums of Mumbai becomes a millionaire by playing the game of "Who wants to become a millionaire?" similar to that of crorepati . The story revolves around the way he answers the question in the game , through his life s experiences which he explains when he is being doubted for cheating in the game (thinking possible how could a slumdog get all the answers rite ) .
Hats off to the Slumdog Millionaire team and many congrats to them for their 10 Oscar nominations and special congrats to our very own AR (Golden)Rahman on winning the Golden Globe award and for his 3 Oscar nominations :)
A must watch movie indeed! Have a great weekend :)